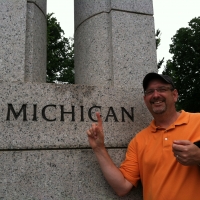 Larry Powell was born in the great state of Michigan, in a small town called Oxford, and is a huge fan of the University of Michigan Wolverines. He joined the Army following high school and then attended Olivet Nazarene University in Bourbonnais, IL where he graduated with a degree in geology in 1990. Larry loves to watch football and NASCAR which are two things the rest of the family does not like to do.
Larry met his wife, Kerry Jo, in their first class at college. When Larry talked with his close friend after his freshman year at college he confessed that he found the girl he wanted to marry; It took Kerry a lot longer to figure that out. They were married in 1990 and began pastoring a church two weeks later. They went on to attend Nazarene Theological Seminary in Kansas City, MO where Larry received a Master's degree in Religious Education. Larry and Kerry have two grown sons, Caleb and Clark and a daughter, Cameo, that is currently in high school.
Larry grew up in a church home, but it wasn't until his junior year in high school that he really understood what it meant to fully surrender his life to Christ. "God radically changed my life when I was seventeen and I have never been the same since. I remember thinking, that very night, that telling people about Jesus and how he can change your life was what I wanted to do for the rest of my life." It wasn't until his junior year in college, in a geology class, that he realized that God was calling him into ministry.
Larry is a pastor that loves people and loves to make people laugh. He believes that a relationship with Jesus Christ is life-changing and he tries to present God's truth in a way that people can understand. Jesus' brother James once said, "Don't just listen to God's word. You must do what it says." Pastor Larry's goal is for people to understand what the Bible says so they can do it.
And one more thing, Larry is passionate that people understand what Jesus meant when he said, "My purpose is to give them a rich and satisfying life." If this is what you desire, but have been unable to find it, maybe you should come see us at the Oxford Church of the Nazarene.